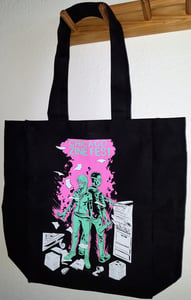 $

10.00
Our fabulous design for the 2016 Chicago Zine Fest was created by Erik Rodriguez and we've put it on a black tote bag for you stylish folks. (Take a closer look at the design here.)
Manufactured by our friends at REP CHI, these 100% cotton totes are super sturdy, using 10 oz. cotton construction, durable gusseted sides, and 22-inch long handles. It measures 10" wide x 14" high x 5" deep. In a super unscientific test, we crammed about 65 zines in there--enough to get you through the longest of road trips!
Shipping to U.S. addresses is $3, please email chicagozinefest@gmail with questions about local (Chicago) pickup or international shipping.
Every purchase will support the Chicago Zine Fest this year and into the future--thank you!